News & Events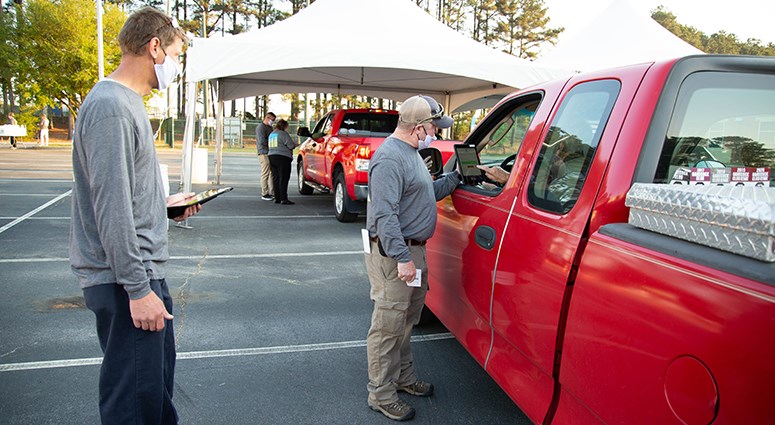 Mid-Carolina Holds a New Kind of Annual Meeting
In many ways, it was an Annual Meeting much like the ones from the past. Everyone that came received a $20 bill credit and a goodie bag. There were prize drawings and members were able to hear about the highlights from the previous year from our CEO Bob Paulling.

I guess you could say, the only thing missing was the opportunity to gather together and eat hotdogs and hamburgers.
Last week, we were able to safely conduct our 81st Annual Meeting of Members after having to cancel the 2020 edition. Our two-day, drive-thru setting on April 7 and 8 allowed 3,340 of you to register, helping us to meet our required quorum. You overwhelmingly approved our bylaw changes with 96% voting yes. Similarly, 96% chose to continue your full voting rights when electing your board members.
Speaking of, five of our trustees were reelected to the board by acclamation: J. Allen Risinger, Eddie C. Best, Clifford B. Shealy, Marvin Sox, and Kenneth E. Lindler. Carey Bedenbaugh won reelection with 61% of the vote. Dwight Easler, Hollis Walsh, James Chapman, Donald Wise, Lewis Shealy, and William Crout were elected to the Nominations and Qualifications committee by acclimation.
On April 9, the virtual business meeting was aired at 7:30 pm and is still available to view in case you weren't able to tune in. Bob Paulling recognized the servant leadership of retiring trustee Ken Frick, who has been on the board since 1976. Mr. Paulling also highlighted some of the ways Mid-Carolina Electric has shown its commitment to our communities through programs like Operation Round Up, Youth Tour, and the Touchstone Energy Scholarships. He also announced the winners of the five large prizes. Those five and the bill credit winners can be viewed here.
Of course, this past year has been like no other because of COVID-19. Our team took the necessary precautions to protect one another and our members, while still providing reliable power to our communities.