News & Events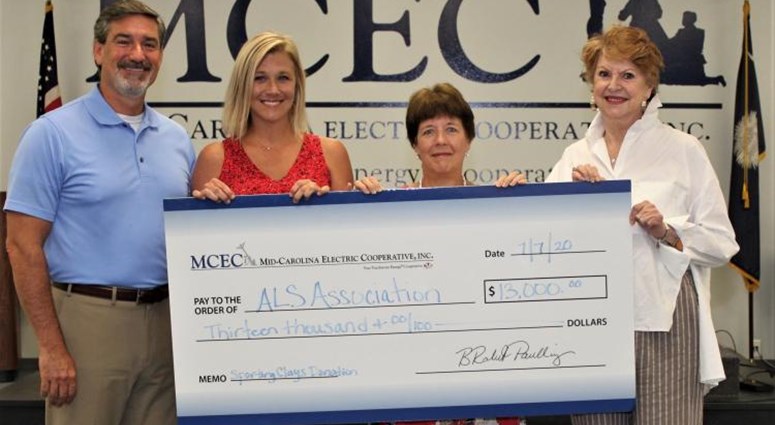 Mid-Carolina Donates $23,000 to Charity
Mid-Carolina Electric Cooperative is pleased to announce a charitable contribution of $23,000 to two organizations close to the hearts of our cooperative family. The ALS Association is the first of those, supporting, assisting and caring for victims of Lou Gehrig's disease. Our dear friend and co-worker, Russ Dantzler, former Vice President of Engineering and Operations, succumbed to ALS in February 2015 and we make this donation in his memory. The ALS Association is the only national non-profit organization enhancing the quality of life for victims while aggressively searching for new treatments and a cure for this debilitating disease. 
The second charity was selected in honor and memory of all cooperative employees and any electrical workers who have utilized and benefited from the Burn Foundation of America's services at the Joseph M. Still Burn Center in Augusta, GA.  Several utility employees across the state have suffered burns and received lifesaving treatment at our nation's largest burn treatment facility. 
In an effort to protect co-op employees, members and sponsors from exposure to COVID-19, the decision was made to cancel the 5th Annual Sporting Clays Fundraiser – the catalyst for these donations.  However, thanks to the generosity of more than 50 sponsors, we were able to once again provide support that will impact the lives of many.
We are happy to announce the date for next year's tournament is March 27, 2021 and encourage all those who share our dedication to community to participate. 
Contact Janice Ayers at 803-749-6473 or Lacy Ridgell at 803-749-6471 for more details.