News & Events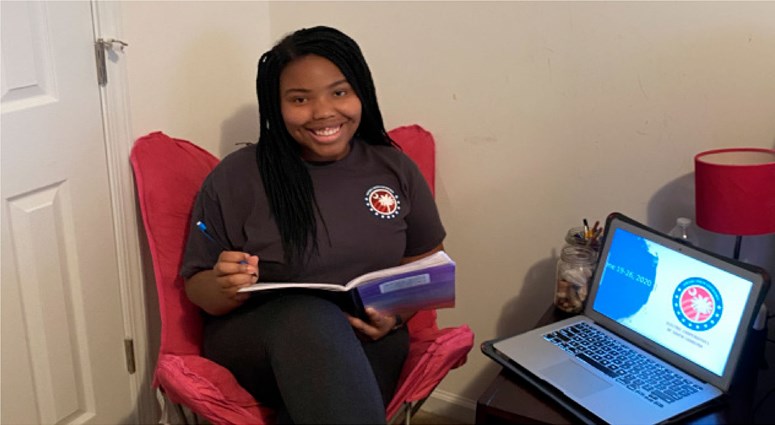 High School Students Win $5,000 Scholarship
Three South Carolina high school students won $5,000 each in an audio podcast scholarship competition sponsored by South Carolina's electric cooperatives.
The winners are Grace Johnson from Hartsville (Pee Dee Electric Cooperative), Salena Robinson of West Columbia (Mid-Carolina Electric Cooperative) and Mackenzie Starnes of Hilton Head Island (Palmetto Electric Cooperative).
The three students competed against other high school students from across South Carolina this summer. All were originally selected for a five-day free trip to Washington, D.C. in June and/or a trip to Columbia in July, where they would connect with other young men and women to learn about electric cooperatives and how their state and federal governments work. The COVID-19 outbreak forced the cancellation of both in-person events. However, the students were able to connect virtually June 19-26.
During the virtual experience, the students heard from state leaders including Gov. Henry McMaster, U.S. Rep. Jim Clyburn, Sens. Lindsey Graham and Tim Scott, S.C. Superintendent of Education Molly Spearman and other state leaders. Using interviews from those leaders, the students then worked in groups to create audio podcasts that explained how the COVID-19 crisis and other world events affected their lives this year.
The winning group was selected by a panel of journalists that included Craig Melvin of NBC's TODAY show, Kenneth Moton from ABC's World News Now, and Cindi Scoppe and Avery Wilks from The (Charleston) Post and Courier newspaper.
In addition to the $5,000 winners, twelve other students from across the state are each receiving $500 as finalists in the competition. The twelve $500 winners are:
Berry Bonds of Winnsboro (Fairfield Electric Cooperative)
Caden Booth of Lamar (Pee Dee Electric Cooperative)
Laney Brown of Conway (Horry Electric Cooperative)
Taylor Gadsden of Saint Stephens (Palmetto Electric Cooperative)
Lexi Harris of Eastover (Tri-County Electric Cooperative)
Mary Luebbert of Sumter (Black River Electric Cooperative)
JK Marlett of Laurens (Laurens Electric Cooperative)
Laurie Ann McGee of St. Matthews (Tri-County Electric Cooperative)
Matthew Morris of Summerville (Berkeley Electric Cooperative)
Ayoola Oladimeji of Goose Creek (Berkeley Electric Cooperative)
Harsh Patel of Orangeburg (Edisto Electric Cooperative)
Emily Rabon of Aynor (Horry Electric Cooperative)
The announcement of the winners can be viewed here:
https://ecscscliving.box.com/s/73jbxisw7cr8te6nhwng2a2i0xrl14kj
Photos of the winning students are available here: https://ecscscliving.box.com/s/7jtnn21vtrqvhvg9duasu0u0rnbsl1ku
All of the students' podcasts are available here:
https://anchor.fm/ecsc