News & Events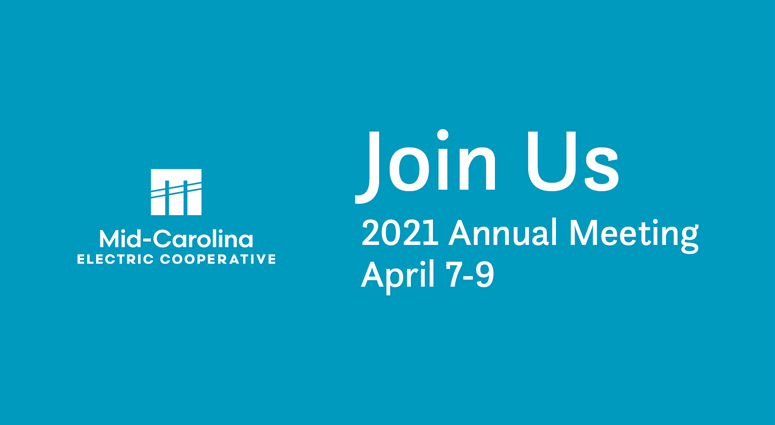 Mid-Carolina Announces 2021 Annual Meeting, April 7-9
Putting you first. Mid-Carolina has always put its members' best interest at the forefront of every decision. Due to the uncertainty of the COVID-19 pandemic and with the health and safety of our members and employees top of mind, we've changed the format of our 2021 Annual Meeting.
Registration and voting have been redesigned so that you never leave your vehicle. Then, the business meeting can be viewed on our new website, so you can join us virtually from the safety of your home.
"While we're disappointed to not enjoy the same member interaction we look forward to each April during the annual meeting, the health of our members and employees must remain our top priority," said Mid-Carolina President and CEO Bob Paulling. "We hope members will appreciate this new streamlined meeting format, and still come out to exercise their right to vote. We look forward to seeing everyone – even from their car."
To make joining us April 7 -9 easier, here is everything you need to know about the 2021 Annual Meeting.
Drive-Thru Registration and Voting at Two Locations
Wednesday, April 7 and Thursday, April 8
7 AM – 7 PM
We will operate two drive-thru locations simultaneously for your convenience. At both locations, Mid-Carolina employees will help you register and vote from your vehicle. Detach and bring your registration card with you (provided in the March issue of SC Living magazine), and simply drive through. We'll hand you a small registration gift, and a $20 bill credit will be automatically applied to your account. It's that easy. Please keep in mind that members in line by 7 p.m. at either location will be allowed to register and vote. Unfortunately, we cannot register anyone arriving after 7 p.m.
Choose which location below is most convenient for you.
Lexington High School
2463 Augusta Highway
Lexington
MAP
Chapin Middle School
11661 Broad River Road
Chapin
MAP
Virtual Business Meeting
Friday, April 9 at 7:30 PM
The business meeting will be view only and available via the home page of the website. Simply click on the business meeting link at the top of the home page to conveniently watch from anywhere. For those not able to view the meeting live, a recording will be posted on the website afterwards.
Proposed Bylaws Changes and Voting Specifics
From the safety of your car via our drive-thru format, members will vote on proposed bylaws changes, as Mid-Carolina and other cooperatives work toward compliance with a governance law passed by the South Carolina Legislature in 2019. You can find our existing and proposed bylaws at here. Or obtain a printed copy by emailing memberservices@mcecoop.com, with BYLAWS in the subject line.
2021 Annual Meeting Gifts and Prizes
Registration Gifts
$20 bill credit and small gift bag
Prizes
81 $50 bill credits (for our 81 years of service)
Generac 2500i Generator (one winner from each registration location)
Generac Pressure Washer (one winner from each registration location)
Grand Prize
2013 Chevy Silverado 1500
Members who register and vote in-person through either of our drive-thru registration locations will be automatically entered into the prize drawings. Winners will be randomly drawn by a computer and notified after the business meeting by phone. All awarded bill credits will be applied to the following month's bill, and we'll work with winning members individually on how they would like to receive physical prizes. Members are not required to view the business meeting online to win.
Have questions?
We're happy to answer them. Just call Member Services at (803) 749-6400.